This week, we delve into the remarkable account of Naaman from 2 Kings 5 as part of our ongoing exploration of Elisha's ministry. Our specially crafted lesson pack is designed to engage children aged 5 to 10 and help them apply the teachings of the Bible to their lives.
Here are some of the key points we'll be exploring:
God Can Use Us Regardless of How Little We May Be: Through the story of Naaman, children will learn that no matter how small or insignificant they may feel, God can use them for incredible purposes.
We Should Tell People Where They Can Find Help: Naaman's journey to healing teaches us the importance of guiding others towards the source of true help—God.
God Can Use Bad Things for Good Purposes: Even challenging situations can be used by God to accomplish His greater plan, as we'll discover in Naaman's story.
We Must Obey God in the Simple Things: Naaman's healing required simple obedience to God's instructions, illustrating the importance of obeying God even in the seemingly small matters.
Only God Can Heal Us and Make Us Clean: Ultimately, the story of Naaman highlights that true healing and cleansing come only from God.
Inside the Naaman Lesson Pack, You'll Find:
Fun Games: Challenge your child's knowledge and critical thinking with interactive games.
Creative Worksheets: Sharpen skills with activities like "Spot the Difference," "True or False," and exciting word searches.
Accessible Story Pages: Our easy-to-read story pages ensure your child comprehends and enjoys the lesson.
Inspiring Crafts: Foster creativity and learning through hands-on craft projects.
Coloring Pages: Add a splash of color to your child's understanding of the lesson and make learning an artistic adventure.
Plus Much More: Explore additional surprises and enriching activities to make the Naaman lesson an unforgettable experience for your child!
Preview our content and download your free lesson pack to embark on this exciting journey of faith, discovery, and growth with your children.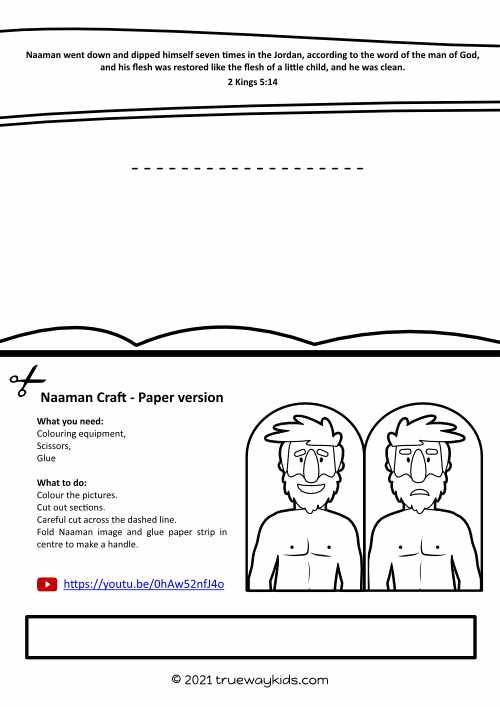 Click the link below to download your free printable Bible lesson today!
Download the FREE lesson packs